October 2011
The What's New at Stock Trading Warrior Newsletter brings you stock trading news, market analysis and stock trading tips. In this month's newsletter you'll find information and tips on the following:
The Traders Expo in Las Vegas, NV
STW Comedy Corner
STW Questions
A Wild Stock Market Ride
If you enjoy this ezine, please feel free to forward it to your friends. If it was forwarded to you and you'd like to subscribe, please do so by visiting Stock Trading Warrior Home and sign up using the opt in box.
The Traders Expo

Next month is The Trader's Expo at Caesar's Palace in Las Vegas, NV, November 16-19, 2011. Most of the event is free to traders and you can register online to attend. There are some paid events that you may participate in that are longer, more in-depth workshops with top traders. Those events run from $195 to $695 and there's early bird pricing if you register before November 2, 2011.
The set up is this: There's one main exhibit hall filled with booths which is open for most of the whole three days. In the exhibit hall, some of larger "booths" are carnival-like with MCs barking out their presentations which is kind of entertaining and creates some excitement. At other booths you can stop and talk to people about trading and ultimately, their product. There's also a large stage for attention-getting presentations like live trading (which unless the markets are really moving can actually be pretty boring) or presentations by more animated and popular traders.
It's good to know what's out there and what traders are doing. During the three days there are also multiple free seminars that you can pick and choose from going on in breakout rooms each hour. It's helpful to have the breakout seminar schedule ahead of time to get a good idea of what you'd like to attend. Do double check for any schedule changes when you check in at the Expo.
Lastly, there are some "after hours" mixers which are really fun. This is the perfect opportunity to meet a lot of people and make some trader friends.
I like The Trader's Expo for two reasons. You can pick and choose the seminars you attend and tailor it to your interests. You can note the ideas that are compelling, do some additional research and implement the ideas that make sense to you. The speakers at the free seminars usually have a service or product they're looking to sell which is ok. I would advise if you're going to purchase any of the tools or services available that you wait until you've had a chance to get back to your hotel room or home even, and investigate them first. There are some very good products, however, they can be quite pricey and a trader should want to know they're buying a quality product.
Secondly, The Trader's Expo gives us a chance to network, socialize and create relationships with other traders. I found this part highly valuable as a trader's journey is so solitary and the ability to meet other traders (some of them very successful) all in three days is pretty great. I really didn't know any traders before going to The Trader's Expo and I can honestly say that was the best thing I got out of attending. Connecting with others and finding out what works for them can add to your trading arsenal.


I've been to Traders Expo multiple times, and I would highly recommend it for traders who live in the Western part of the U.S. (there's another one in NY usually in February). For example, I live in Northern Arizona so it's an easy 5 hour drive to Las Vegas.
Even if you can't physically attend, The Traders Expo provides free access to some live webinars and other good videos if you register on their website.
For more information visit The Traders Expo website.
---
STW Comedy Corner
What's the difference between a pigeon and a stockbroker?

A pigeon can still make a deposit on a BMW.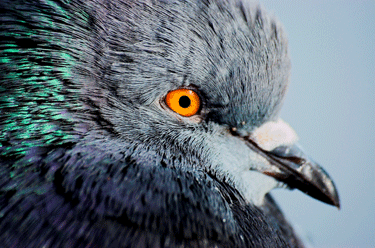 He's a cute little guy, isn't he?
---
STW Questions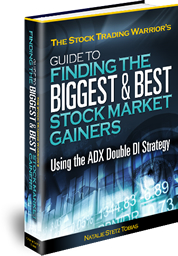 (This question is about the ADX Double DI Strategy from The Stock Trading Warrior's Guide to Finding the Biggest and Best Stock Market Gainers)


Hi-

Bought your system. Surfing online one link after another. Not sure how I stumbled upon your site.

But I am happy that serendipity or law of attraction presented itself.

Anyways a quick question I had was does your awesome system or methods still work or valid in today's bear market environment.

I want to trade options with your ADX Double DI Methods.

Also you talked about maybe a short selling strategy in the works.

Thanks for the opportunities.

Todd T.

Great question. In general, no, the ADX Double DI Strategy doesn't work very well in a bear market. It may work if you see the perfect setup, but usually not for very long. Some examples are LPHI, STAA and STMP. These three stocks presented the ADX Double DI setup in July and August even as the market began to head downward. But, their momentum didn't last long. I happened to have a position in LPHI when the market really started sliding and it was strange that it kept going up while the market was going down. It was like some kind of alternate world!

The problem is the increased risk a trader takes going against the tide of downward movement. The probabilities of better gains are found in taking short positions by moving with the tide. Again, in general, I've found this to be a better strategy because it's so much more likely that the majority of stocks going down will drag many others with them.

The ADX Double DI Strategy really works best in an upward trending market. The benefit of using it in a market uptrend is that you get that momentum lift which can really be an edge for a trader. Also, some stocks trend for several months which is nice.

When I started writing the ebook the markets were trending upward and there were some good long trades this year. It's kind of ironic that the market began to tank as I was finishing it. However, when the market starts upward again, you'll be ready to trade this strategy and take advantage of some good trenders.

I'm not sure how options would work with the ADX Double DI Strategy because I don't trade options. I'm not a fan of the time constraints. It sounds like a theory base might be there and you can paper test it to start or start small. Let me know how that works for you.

Yes, I do have a short selling strategy that I'm working with and a longer-term investor strategy. If it's anything like what happened with the ADX Double DI Strategy, the short selling ebook will probably come out when we're in a raging bull market! But, that's ok because being ready and having several really good strategies for various kinds of markets is the way to go.

Thank you very much for purchasing the ebook and feel free to ask any more questions.

Click here for more information about the ADX Double DI Strategy ebook.

If you have a stock trading question, please submit it on the Stock Trading Warrior contact page.
---
A Wild Stock Market Ride
Lately, every time I think the market is heading into a new trend, it does the opposite. This is a classic whipsaw situation especially with the super volatility that's been occurring and it's not very much fun. So although the markets are in a downtrend, there are a lot of mixed messages.

Shorter-Term Trading Strategy

If you have the patience and the willingness, this kind of market can be traded, but the hold time is short (2-3 days) and the gains are smaller. One way to do this is to trade contrarian - that is, if the market signals up, look for short positions. If the market signals down, go long.

This is actually a real ADX strategy. When the ADX line is below 23-20 and the +DI spikes up, it's likely the contrarian (short position) will profit next. This is for very short term trading as in a day or two and with very tight stops. The profit is a quick, small profit.

For example, take a look at the $SPX.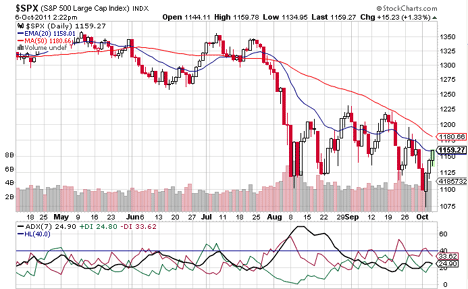 When the ADX went below 23 in mid-September and each time the DI spiked above 25-30, the sentiment switched if only for 2-3 days.

TIP: In a market like this where positions are held for a shorter time, I like to use trail stops to capture some gains, while looking for a real trend to develop.

Mid-to-Longer-Term Trading Strategy

In general, the current market is in a downward trend, but it sure isn't fun even for short positions. For shorter-term traders, the upward swings look like some short covering that's triggering more short covering, which is creating a market that's just difficult to trade.

Personally, I have three small short positions that are minimally in the red for me even though the stocks are in strong long-term downtrends. Being in the red in these positions is expected after three strong up days in the markets. Because of this volatile market, I keep smaller positions, my stop losses are in place and most of my capital is in cash.

An alternative is to stand on the sidelines completely in cash, which is always a good place to be if one is not getting a good market read and unsure about whether to trade or not.

If you're someone who's in cash and if you don't like shorter-term trading, then a good market trend set up to look for is a new ADX (7-day) high. In this case, an ADX (7-day) line move above 28 in the $SPX or the $SML could indicate that a new (real) trend may be beginning.

Additionally, what has really saved me from getting caught up in the whipsaw activity is waiting for the close of the day to read the market. I like to place my orders for the next day after the close. Why? Because if the market read is correct, a new position will only be taken if the theory is correct. Otherwise, if the market opens and moves in the opposite direction, the order will not trigger and my capital is in place. This has worked very well for me.

"When I'm bearish and I sell a stock, each sale must be at a lower level than the previous sale. When I am buying, the reverse is true. I must buy on a rising scale. I don't buy long stocks on a scale down, I buy on a scale up." – Jesse Livermore
---
Look for next month's newsletter for more current stock market news and analysis. Thank you for reading What's New at Stock Trading Warrior!

For additional stock trading information and tips, please visit Stock-Trading-Warrior.com