February 2012


The What's New at Stock Trading Warrior Newsletter brings you stock trading news, analysis and tips. In this month's newsletter you'll find information on the following:

The Stock Trading Warrior's Guide - How to Find the Best Stocks to Buy


STW Comedy Corner


Value Stock Strategy Study


Stock Pix - Hot or Not?

Each month beginning in January 2012, the Stock Trading Warrior Newsletter will focus on developing a part of a strong, stock trading system to help you create or fine-tune your stock trading performance.


Let's make 2012 your best stock trading year ever!
---
The Stock Trading Warrior's Guide
How to Find the Best Stocks to Buy

How to Find the Best Stocks to Buy

Since the January newsletter, I hope you've had a chance to work through Step 1. of your Stock Trading System - Secrets to Stock Market Strategies. If so, to recap, you've done the following:


Decided on how much time you want to spend with your stock market investing.
Discovered your stock trading philosophy or approach.
Selected a strategy to work with.
Picked a technical indicator that you will use.


In Step 2. of building a Stock Trading System - How to Find the Best Stocks to Buy - you'll find three methods for finding great stock candidates to buy and two additional criteria to help you narrow down your stock picking choices down to the best of the best. You'll also read about free places to create Watch Portfolios some with alerts for the stocks you find.

Are you ready to begin? Let's go to How to Find the Best Stocks to Buy.

If you want to go directly to a list of screeners for your fundamental criteria, move on to Stock Market Screener.

If you're a technical, trend or momentum trader ready to enter your technical setup criteria then head over to How to Find the Best Free Stock Scanner.

Lastly, there are some terrific free Stock Market Performance Lists that offer up lists of stocks performing well in various categories.

Next month, we'll cover Step. 3 in creating a Stock Trading System - Look at the Stock Market Trend Before You Buy which will greatly enhance your stock investing success.


---
STW Comedy Corner



Stock Market Investment Tips for 2012



Get in on the ground floor and make some BIG bucks. Watch for these consolidations in 2012.


Hale Business Systems, Mary Kay Cosmetics, Fuller Brush, and W.R.Grace Co. will merge and become: Hale, Mary, Fuller, Grace.



Polygram Records, Warner Bros., and Zesta Crackers join forces and become: Poly Warner Cracker.



3M will merge with Goodyear and issue forth as: MMMGood.



Zippo Manufacturing, Audi Motors, Dofasco, and Dakota Mining will merge and become: ZipAudiDoDa.



FedEx is expected to join its major competitor, UPS, and become: FedUP.



Fairchild Electronics and Honeywell Computers will become: Fairwell Honeychild.



Knotts Berry Farm and the National Organization of Women will become: Knott NOW!



Goldman Sachs and Caterpillar will become the huge conglomerate: Gold Digger.



Farmer Brothers and Dell Computers will become: Farmer in the Dell.
---
Value Investing Strategy Study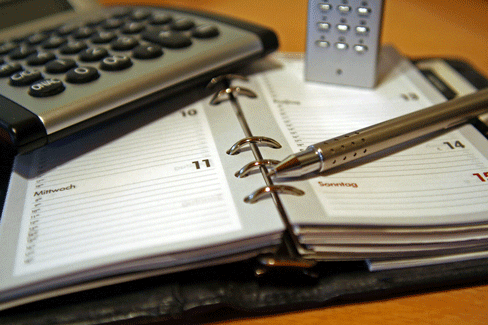 If you like the idea of buying value stocks or stocks that are considered undervalued in the stock market, there was a recent study done on picking undervalued stocks using the company's EV/EBITDA for finding stocks that perform over the long term.

Wesley Grey and John Vogel of Drexel University recently completed their study and came up with some interesting results. The paper is titled: "Analyzing Valuation Measures: A Performance Horse-Race over the Past 40 Years." Their basic research question: Which valuation metric has historically performed the best?

Here's an easy-to-read description of the study here.

And, here's a link to the published study by Grey and Vogel here.

As a reminder, it's Stock Trading Warrior's position that to increase the probability of success, applying a technical indicator for determining when to enter any potential stock position will improve your performance.

Additionally, keep in mind, 40 years is a long time (!) and Stock Trading Warrior doesn't advise keeping stocks without stop loss orders or holding onto stocks that are losing 30-50% of value if the markets are dropping severely.






---
Stock Trading Warrior Pix
Hot or Not?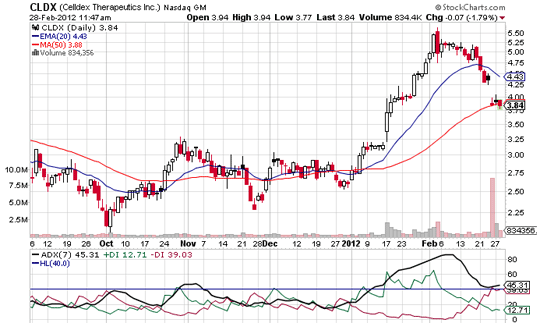 This month's pick is Celldex Therapeutics, Inc. (CLDX). CLDX has set up in the ADX Double DI Strategy pattern with a buy price of $4.08 which was triggered on January 20th. It has risen 22% since the buy point. A stop loss order is in place to capture part of the current gain and we'll watch and see what happens over the next month.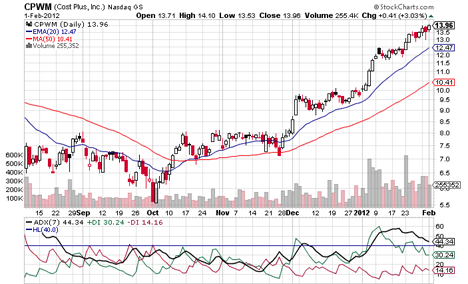 Cost Plus, Inc. (CPWM) is HOT. CPWM is beginning a strong trend upward with heavy volume and it's broken above it's 52-week high.

The entry buy price was hit at $12.00 and has earned a 16.3% gain as of 01/09/12 when the price target was hit with high volume. As mentioned previously, the nice thing about a stock at it's 52-week high is that its price does not have a resistance point (a prior 52-week high) that might push the price back down. Stock prices that set up like this sometimes really run. This stock is an ADX Double DI Strategy pick. We'll watch it over the next month and see how it does.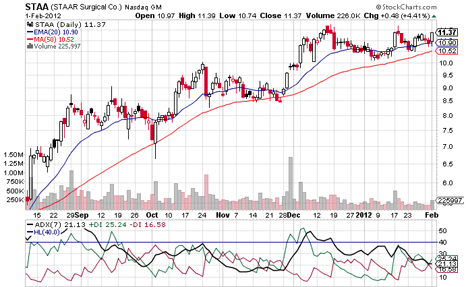 Update: December's stock watch of STAA is tepid. STAA's buy price was hit at $11.11 on 12/06/11. The price went from being down 7% at the end of December to up 2.3% currently from the buy price. Let's watch this stock to see what it does over the next month as it hasn't broken down below any major trend lines. If it hasn't performed better during that time it will be considered a laggard and removed.

You will find that some stocks are laggards and it oftentimes is better to reinvest the money in a different stock to keep your money working for you. Unless of course, you are receiving a above average dividend payout.

The ADX Double DI Strategy looks for stocks like the ones discussed above that are setting up for strong momentum plays to hold for a week or two - up to several months. The ADX Double DI Strategy is described in detail, along with other trading plan strategies in the book: The Stock Trading Warrior's Guide to Finding the Biggest and Best Stock Market Gainers Using the ADX Double DI Strategy.



For a limited time your purchase will also include three
FREE Bonus Offers!


First, you'll receive access to the Daily ADX Double DI Strategy Alert Service that highlights stocks that are actively setting up and is a terrific way to support you as you learn how to implement the ADX Double DI Strategy. That service also provides a daily Market Meter which advises as the markets shift directions. And lastly, enclosed is a free spreadsheet to easily calculate buy and sell prices for the stocks that are setting up - the spreadsheet makes it super easy for you to place your winning trades!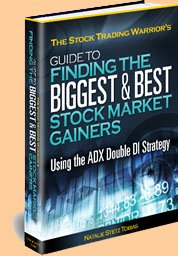 Comes with a full money-back guarantee if you're not completely satisfied.
Click here for more information about the ADX Double DI Strategy ebook.


---


Don't forget to look for next month's newsletter for more current stock market news, analysis and Step 3 of
How to Create Stock Trading Systems.

If you have any stock trading questions at all, please submit them on the Stock Trading Warrior contact page.


---

Thank you for reading What's New at Stock Trading Warrior!
For additional stock trading information and tips, please visit
Stock-Trading-Warrior.com

If you enjoy this ezine, please feel free to forward it to your friends. If it was forwarded to you and you'd like to subscribe, please do so by visiting Stock Trading Warrior Home and sign up using the opt in box.