January 2012
The What's New at Stock Trading Warrior Newsletter brings you stock trading news, analysis and tips. In this month's newsletter you'll find information on the following:

The Stock Trading Warrior's Guide - Secrets to Stock Market Strategies


STW Comedy Corner


Year End Review


Stock Pix - Hot or Not?

Beginning in January 2012, each month the Stock Trading Warrior Newsletter will focus on each part of a strong, stock trading system to help you create or fine-tune your stock trading performance.


Happy New Year!
Let's make 2012 your best stock trading year ever!
---
The Stock Trading Warrior's Guide
Secrets to Stock Market Strategies

Secrets to Stock Market Strategies

As promised, the Stock Market Warrior website will begin reworking the stock market systems section of the site, creating beginner and step-by-step guides to help you develop a system that brings you more profits. Action steps and more examples have been added to these webpages to assist you in your success.

The first step to creating terrific Stock Trading Systems is to understand the secrets to developing stock market strategies that work. Find these insights at the new webpage, Secrets to Stock Market Strategies.

Perhaps you want to review strategies that fit into the time frame you have for trading? To view a list by "Time Commitments," jump over to the List of Stock Trading Strategies.

If you're interested in more in-depth theories about strategy probabilities you'll like What Are Stock Trading Strategies?

Next month, we'll cover Step 2. in creating a Stock Market System - Finding the Best Stocks to Buy.


---
STW Comedy Corner
Today's Stock Market Report

Helium was up, feathers were down.
Paper was stationary.
Fluorescent tubing was dimmed in light trading.
Knives were up sharply.
Cows steered into a bull market.
Pencils lost a few points.
Hiking equipment was trailing.
Elevators rose, while escalators continued their slow decline.
Weights were up in heavy trading.
Light switches were off.
Mining equipment hit rock bottom.
Diapers remain unchanged.
Shipping lines stayed at an even keel.
The market for raisins dried up.
Coca Cola fizzled.
Caterpillar stock inched up a bit.
Sun peaked at midday.
Balloon prices were inflated.
And Scott Tissue touched a new bottom.
And batteries exploded in an attempt to recharge the market...
---
Year End Review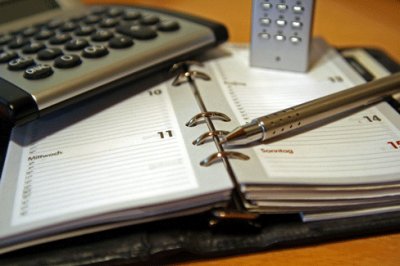 The year end is a great time to review your performance for the prior year. To help you do that visit Tracking Your Trades.


---
Stock Trading Warrior Pix
Hot or Not?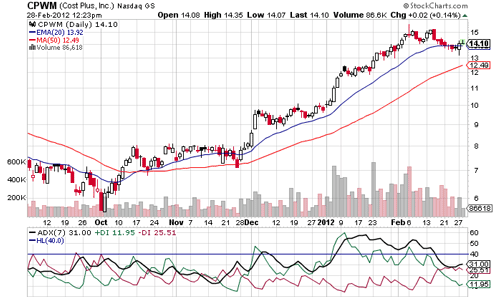 Cost Plus, Inc. (CPWM) is HOT. CPWM is beginning a strong trend upward with heavy volume and it's broken above it's 52-week high.



The entry buy price is $12.00. If the price moves above the buy price with conviction and continues to raise it's 52-week high this could be a great stock. The nice thing about a stock at it's 52-week high is that if it attracts enough attention (volume) its that the price does not have a resistance point (a prior 52-week high). Stock prices that set up like this sometimes really run. This stock is an ADX Double DI Strategy pick. We'll watch it over the next month and see how it does.



Update: Last month's stock watch, STAA's buy price was hit at $11.11. The price is down 7%. Let's watch this stock to see what it does over the next month.

The ADX Double DI Strategy looks for stocks like CPWM that are setting up for strong momentum plays to hold for a week or two - up to several months. The ADX Double DI Strategy is described in detail, along with other trading plan strategies in the book: The Stock Trading Warrior's Guide to Finding the Biggest and Best Stock Market Gainers Using the ADX Double DI Strategy.



It makes a great Gift for the Stock Trading Warrior in your family!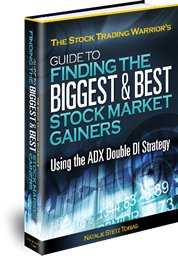 Click here for more information about the ADX Double DI Strategy ebook.


---
If you have any stock trading questions at all, please submit them on the Stock Trading Warrior contact page.
---

Look for next month's newsletter for more current stock market news and analysis.
Thank you for reading What's New at Stock Trading Warrior!
For additional stock trading information and tips, please visit Stock-Trading-Warrior.com

If you enjoy this ezine, please feel free to forward it to your friends. If it was forwarded to you and you'd like to subscribe, please do so by visiting Stock Trading Warrior Home and sign up using the opt in box.