Hello Stock Trading Warriors!


September 2012

The What's New at Stock Trading Warrior Newsletter brings you stock trading news, analysis and tips. In this month's newsletter you'll find information on the following:

How to Track Your Trades


What Stock Investing Information Do You Need and Want?


Market Commentary


STW Comedy Corner


Stock Pix - Hot or Not Update

Each month beginning in January 2012, the Stock Trading Warrior Newsletter will focus on developing part of a strong, stock trading system to help you create or fine-tune your stock trading performance.


Let's make 2012 your best stock trading year ever!

What's New at Stock Trading Warrior is written by the Principal Warrior at Stock Trading Warrior, Natalie Stetz Tobias. Natalie is a self-taught stock market investor who's passionate about sharing investing strategies that work.




---
The Stock Trading Warrior's Guide
to When to Buy More of a Stock

Since the August Stock Trading Warrior newsletter, I hope you've had a chance to work through Step 8 of your Stock Trading System - Good Stocks to Buy - Again.

This month in Step 9, we'll talk about two ways to really improve trading success by covering how to track your stock trades and how to use a stock trading journal.

Tracking your stock trades will do two terrific things for you you. First, it will give you a clear picture of performance and it will also guide you to improving your trading decisions.

A stock trading journal is a book of chart print outs of the positions you've closed. A key point of what to do is to "grade" the performances of each position you've held. When I print out stock charts of my positions, I really do feel like a teacher grading papers. I actually use a red pen to critique the trade, and I write down specific comments. Comments include items like breaking a rule, missing something, suggestions for improvement or actions that rewarded me with success.

This has helped me to see any themes emerging over time - whether positive or negative - and I absorb those messages into future trading actions. This tool is cause for better and better success.

Let's get started on The Path to Better Trades.

Next month, we'll cover Step 10 and the final piece to create a Winning Stock Trading System by talking about continuing education. Continuing education in stock market investing never ceases to amaze me. I often think I'm a pretty seasoned trader, however I love that I always learn at least one thing new when I take a class or read a book.


---
What Stock Investing Information
Do You Need and Want?
As I look to the future, I'd like to ask you what it is that you need or want when it comes to stock trading and investing? Please take a moment and send me your suggestions by using my contact form.

I understand how difficult it can be to be really successful investing in the stock market. For that reason, I want Stock-Trading-Warrior.com to be the "go-to" place as one of the best resources for stock market investors.


---
Market Commentary
This month, the S&P 500 Large Cap Index ($SPX) is really showing some life and clearly in an uptrend. After a bouncy summer, the index's price is above the 20-day and 50-day moving averages with some heavier volume days since we headed into September.

The ADX had a nice run upward with the +DI above the -DI which signaled a new uptrend. The ADX is now declining as the market takes a modest breather. A declining ADX line does not always mean the current trend is over - just that the trend is slowing.

You'll notice if you've taken new long positions, for the most part they should be moving upward. This is why it's beneficial to wait for the start of a market trend before entering new positions - you want the boost a trending market can give your positions.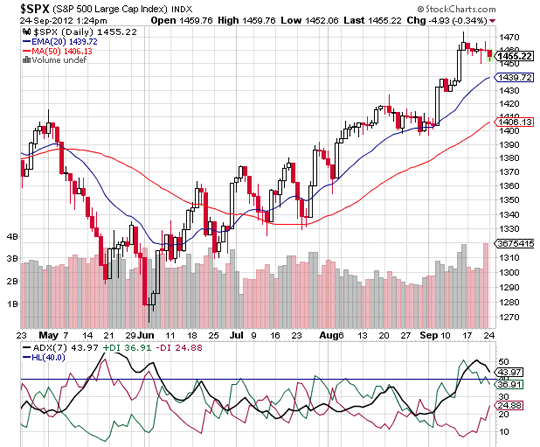 As mentioned in the last newsletter, another way to get perspective is to step further back and look at a weekly chart of the $SPX (below). Looking at the ADX, you'll see that the market is indeed in an uptrend with the +DI above the -DI and the ADX line rising confirming what the daily chart has been telling us.

Also, the weekly ADX line is still moving upward which is a positive sign.




What to Do Now?

At Stock Trading Warrior, the philosophy is not to speculate on what the market might do, but follow along with what is actually happening using the signals that are given - all the while using good money management skills.

With the market pausing on the uptrend, it's prudent to wait for the uptrend to resume. Continue to enter new long positions if the market trend continues.

Remember you can always check the Stock Trading Warrior's Stock Market Direction webpage for the current market traffic signal.



---
STW Comedy Corner


A man calls his stockbroker all anxious and out of breath with this urgency in his voice. He says, "Sell it all, sell everything fast, right away." The stockbroker tries to explain that the market is cyclical in nature and that for long term outlook stocks still remain the place to be.

The man says, "Let me tell you a secret. You know I've been married for 6 years now and I've been your client for 5 years."

"Yes, go on," the stockbroker says.

"Well. My wife has this thing about the market. Her grandparents lost it all in the great crash and ever since then her family found investing in the market akin to original sin. When we got married I promised her that I would follow in her parents footsteps and never venture in the stock market and always leave all our money under the mattress."

"Wow, I didn't know that. I guess you want the money because the market is going down, in case she asks for it."

"No, I want the money because she ordered a new mattress and it is being delivered in two days."



---
Stock Pix
Hot or Not?

Back in May, I wrote a blog entry about an article titled, 5 Cheap Stocks under $15. Those stocks were ELN, BAC, SD, NAK and RIMM. At the time, I did not find them to be particularly good picks technically and pointed out why.

I also picked out some non-cheap stocks as a comparison.

Read my blog update about how all the stocks have done in the markets…
---


The ADX Double DI Strategy looks for stocks setting up for strong momentum plays to hold for a week or two - up to several months. The ADX Double DI Strategy is described in detail, along with other trading plan strategies in the book: The Stock Trading Warrior's Guide to Finding the Biggest and Best Stock Market Gainers Using the ADX Double DI Strategy.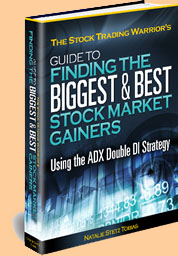 Comes with a full money-back guarantee if you're not completely satisfied.
Click here for more information about the ADX Double DI Strategy ebook.


---


Don't forget to look for next month's newsletter for more current stock market news, analysis and Step 9 of How to Create Stock Trading Systems.

If you have any stock trading questions at all, please submit them on the Stock Trading Warrior contact page.


---

Thank you for reading What's New at Stock Trading Warrior!
For additional stock trading information and tips, please visit
Stock-Trading-Warrior.com

If you enjoy this ezine, please feel free to forward it to your friends. If it was forwarded to you and you'd like to subscribe, please do so by visiting Stock Trading Warrior Home and sign up using the opt in box.