Hello Stock Trading Warriors!


July 2012


The What's New at Stock Trading Warrior Newsletter brings you stock trading news, analysis and tips. In this month's newsletter you'll find information on the following:

When to Buy More of a Stock


What Stock Investing Information Do You Need and Want?


Market Commentary


STW Comedy Corner


Stock Pix Update & Dividend Stock Strategy

Each month beginning in January 2012, the Stock Trading Warrior Newsletter will focus on developing part of a strong, stock trading system to help you create or fine-tune your stock trading performance.


Let's make 2012 your best stock trading year ever!

What's New at Stock Trading Warrior is written by the Principal Warrior at Stock Trading Warrior, Natalie Stetz Tobias. Natalie is a self-taught stock market investor who's passionate about sharing investing strategies that work.




---
The Stock Trading Warrior's Guide
to When to Buy More of a Stock

Since the June newsletter, I hope you've had a chance to work through Step 7 of your Stock Trading System - Successfully Selling Stock.

Knowing when to sell stocks is a large part of stock market investing and a key to your success. If you moved through that step, you've identified how to sell stock in the following situations:


When a stock is losing money;
After a stock has earned a gain;
When a stock price isn't moving;
and, how to deal with emotions around selling.

Additionally, you've also added your rules for selling stock to your stock trading plan.

This month in Step 8, we'll get comfortable with when it's a good time to buy more of a stock you already own. Clearly, you'll have strong reasons for buying a particular stock in the first place, so if the stock continues to perform there may be reason to buy more of it.

Let's find out what to look for before buying more of a position by moving on to Good Stocks to Buy May Be the Ones You Already Own

Next month, we'll cover Step 9 in creating a Winning Stock Trading System by talking about how to track your trades and analyze performance. This exercise can be a real eye opener and definitively add to your stock investing success.


---
What Stock Investing Information
Do You Need and Want?
As I look to the future, I'd like to ask you what it is that you need or want when it comes to stock trading and investing? Please take a moment and send me your suggestions by using my contact form.

I understand how difficult it can be to be really successful investing in the stock market. For that reason, I want Stock-Trading-Warrior.com to be the "go-to" place as one of the best resources for stock market investors.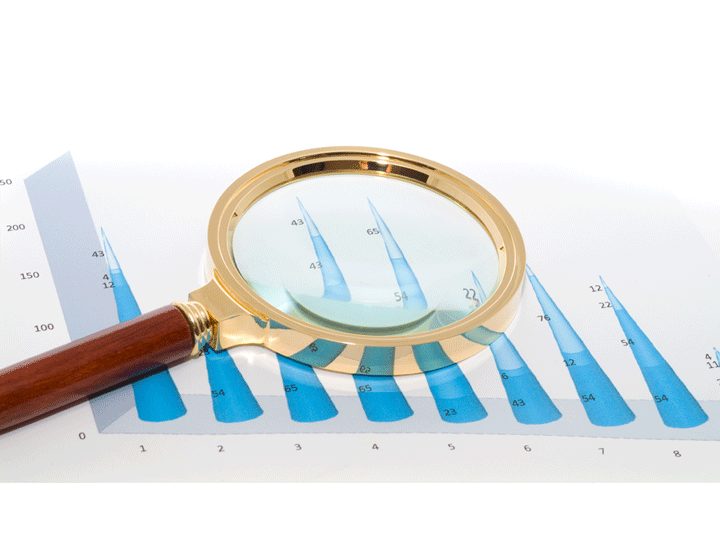 Here's this month's question and response:

Do you recommend any good free sites for buying stocks online?

I'm sure you've heard the saying "if it sounds too good to be true, then it probably is." Unfortunately, there are no completely free stock trading sites, but the good news is that there are opportunities for some free trading.

What you can take advantage of is very low discounted brokers, promotional offers and bank trading services.

One of the lowest cost brokerages I use is . TradeKing offers $4.95 stock trades and has the services and tools of more expensive brokers. Additionally, Zecco has merged with TradeKing to create the lowest price and best quality investment brokerage. If you aren't using a discount brokerage it's time to check out TradeKing.





Another opportunity for some free trading is when brokers offer promotional offers that present a number of free trades and/or cash if you open an account. TD Ameritrade, E*Trade and OptionsExpress often promote this kind of offer.

Lastly, there are some banks like Wells Fargo and Bank of America that both offer limited commission-free trades if you keep a combined balance of $25,000 or more. For example, Wells Fargo offers 100 free trades per year with no fees with a combined balance of the $25,000 as mentioned above. The trading platforms typically aren't set up like other brokers and don't offer the same services. Some of the other complaints are poor trading tools, high margin rates, inadequate customer service, delayed trades and potential annual fees. These kinds of accounts can work for people who don't trade often or require superior trading tools and research.

In the end, free is good, but when you're looking to reduce commission expenses you must keep in mind how you trade stocks. Don't sacrifice your style of trading to save money. If you're considering changing brokers make sure the tools you use to trade as well as the right trading platform are available.


---
Market Commentary
Last month, the S&P 500 Large Cap Index ($SPX) looked like the market was attempting a new uptrend. And this was true, but through July it sure wasn't pretty. Looking at a daily chart of the $SPX you can see how messy it actually was for the month of July. A few nice days up, then several more straight down - and repeat. Take a look: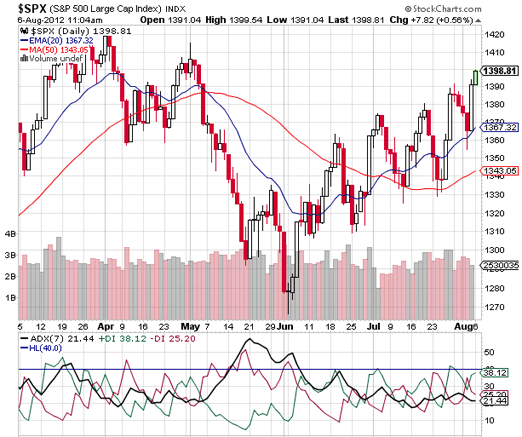 Definitely not a market for anyone with a queasy stomach. Looking at the Average Directional Index (ADX) which is a terrific trend tool, the ADX line has just bounced along never really getting into a strong trend, and the +/-DI lines have crossed six times since the last commentary. When the ADX indicator looks like this a good thing to do is step back and look at moving average lines.

On the chart above, the 20-day exponential moving average line (blue line) is moving upward. As unattractive as it is, it is trending upward.

Another way to get perspective is to step further back and look at a weekly chart of the $SPX (below).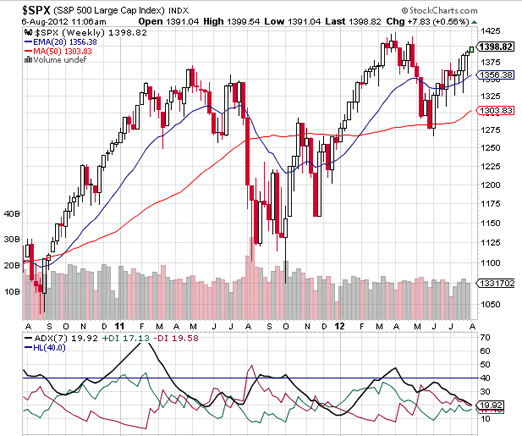 Looking at the ADX line, it has continued to drift downward signaling a weakening trend. The -DI is above the +DI, so the signal is a weakening downtrend, and there just isn't any sign of conviction on the buying side.

In general, it seems like a lot of the buying activity is short sellers covering their positions. As you probably know, short selling is when a trader "borrows" shares of stock from another trader's account. Those shares are sold in the market, but the borrowing trader "owes" the lending trader the value of the stock. The "lost" value of the lender is a gain for the borrower as they only need to replace the amount the stock is worth at the time the shares are "returned." When the borrower wants to close the position, they have to buy back the shares in the open market to replace what they borrowed. That buying activity is not bullish buying.

What to Do Now?

In an indecisive market, standing on the sidelines with cash is acceptable. If you have positions that are hanging in there - meaning, you don't have a loss in the position and the price hasn't hit your stop loss - that's great because if the market really starts to go in the direction of your positions they will be positioned to move.

If positions have sold out with the ping pong ball market action then standing aside may seem tough but it is the thing to do unless you have some kind of short term strategy that can work with the market's short-term ups and downs.

Remember you can always check the Stock Trading Warrior's Stock Market Direction webpage for the current market traffic signal.



---
STW Comedy Corner


A 65 year old Grandmother went to meet with her financial planner. Upon sitting down with the financial planner, he asked her what she'd done to prepare for retirement.

Granny replied, "So far I've got $5,427.67 saved for my retirement."

The financial planner sighed and said, "I'm afraid that's not enough for retirement.

Granny answers, "Oh yes it is."

The planner asks, "How is that?"

Granny said, "I've got $5,427.67 saved for my retirement PLUS 250,000 little packets of Sweet'n Low, ketchup and crackers."



---
Stock Pix
Hot or Not?

UPDATES: American Vanguard Corp. (AVD) was an ADX Double DI Strategy stock pick several months ago and repositioned itself as a buy at $28.63. It hit that target, but failed handing over a -9.6% loss.

As discussed in last month's newsletter, losses are a part of the experience of trading and investing, and cutting losses short is one of best ways to do well in the stock market.

Prospect Capital Corp. (PSEC) was the second pick last month. PSEC did not hit the buy target of $11.97 and was not purchased.

Dividend Stock Combined with Trend Trading

There's been more press about investor money going into dividend stocks lately mostly because of the indecisive market action.

There are some good dividend strategies out there as long as the stock price is treated like any other stock. If the stock price is going down it should be sold to protect capital. Having said that, applying trend investing to dividend stocks is a good strategy. I started using this strategy this year with higher paying dividend stocks like IVR, TWO and MFA - all of which started trending early this year and have done well.

As of today, here are some stocks that are pulling back and can be candidates for a watch list:

MFA Financial Inc. (MFA) (annual dividend: 11.4%)

Anworth Asset Mortgage Corp. (ANH) (annual dividend: 10.93%)

Annaly Capital Management, Inc. (NLY)(annual dividend: 12.75%) has been downgraded and can be put in a watch list.

To partake in this kind of strategy, look for higher paying dividend stocks that have trended nicely historically and then watch for them to begin a new trend. It's an easy task to keep a watch list of these kind of stocks and enter a new position when the markets begin trending as well as the individual stock.


---


The ADX Double DI Strategy looks for stocks setting up for strong momentum plays to hold for a week or two - up to several months. The ADX Double DI Strategy is described in detail, along with other trading plan strategies in the book: The Stock Trading Warrior's Guide to Finding the Biggest and Best Stock Market Gainers Using the ADX Double DI Strategy.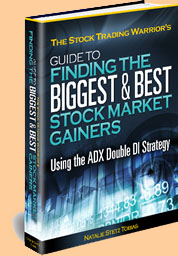 Comes with a full money-back guarantee if you're not completely satisfied.
Click here for more information about the ADX Double DI Strategy ebook.


---


Don't forget to look for next month's newsletter for more current stock market news, analysis and Step 9 of How to Create Stock Trading Systems.

If you have any stock trading questions at all, please submit them on the Stock Trading Warrior contact page.


---

Thank you for reading What's New at Stock Trading Warrior!
For additional stock trading information and tips, please visit
Stock-Trading-Warrior.com

If you enjoy this ezine, please feel free to forward it to your friends. If it was forwarded to you and you'd like to subscribe, please do so by visiting Stock Trading Warrior Home and sign up using the opt in box.