May 2012

The What's New at Stock Trading Warrior Newsletter brings you stock trading news, analysis and tips. In this month's newsletter you'll find information on the following:

Developing a Winning Stock Trading Plan


Is It Time to Buy These Stocks?


STW Comedy Corner


TradeMiner Product Review


Stock Pix - Hot or Not?

Each month beginning in January 2012, the Stock Trading Warrior Newsletter will focus on developing part of a strong, stock trading system to help you create or fine-tune your stock trading performance.


Let's make 2012 your best stock trading year ever!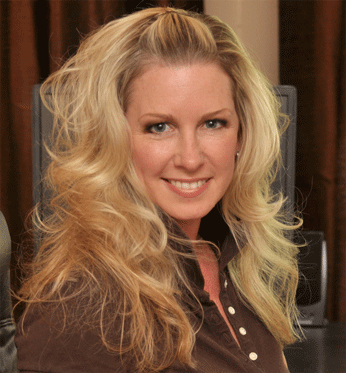 What's New at Stock Trading Warrior is written by the Principal Warrior at Stock Trading Warrior, Natalie Stetz Tobias. Natalie is a self-taught stock market investor who's passionate about sharing investing strategies that work.



---
The Stock Trading Warrior's Guide
to Developing a Winning Stock Trading Plan

Since the April newsletter, I hope you've had a chance to work through Step 4 of your Stock Trading System - How Much Should You Invest in Any One Trade?

Knowing how much you'll invest in any one position ahead of time saves you the trouble of thinking about it time after time. When you have a simple position sizing method, you also protect your portfolio from large losses.

If you've moved through Step 4, then you've done the following:


decided on the personal risk level you're comfortable with;
you know exactly how much money you're willing to risk on any trade;

The awesome thing about all that we've done so far in developing a stock trading system is that much of it was preparing you to fill in the blanks of your written trading plan which is the main topic of this month's newsletter.

Writing a winning stock trading plan may not sound like much at the onset, but it's an extremely useful and viable tool. After I wrote out my plan, it helped me to stick to the program, not get sidetracked by my emotions and see real improvement in my trading.

To guide you in writing up your own plan, go to A Winning Stock Trading Plan. I urge you to take the time to think about how you want to invest your money and to see if there are any places for improvement so you can really start to see the results you want.

Next month, we'll cover Step 6 in creating a Stock Trading System and what I call, "Incubation" which keeps you actively monitoring your positions.


---
Is This the Time
to Buy These stocks?


I was reading an article the other day about 5 Cheap Stocks Under $15 that are worth looking at and that could rise as much as 236%! After looking at them, I had the exaggerated thought - there's absolutely no way! And, I feel sorry for anyone who takes that kind of advice at face value and just logs onto a broker account and buys them. I know in my early years of investing I did listen to this kind of rationale and where did it get me? Nowhere!

Don't get stuck in this cheap stock trap... to find out what stocks they are read my blog entry.


---
STW Comedy Corner

Investment Advice

If you had bought $1,000.00 worth of Nortel stock years ago, it would now be worth $0.

With Enron, you would have $0 of the original $1,000.00.

With WorldCom, you would still have $0 left.

If you had bought $1,000.00 worth of Budweiser (the beer, not the stock), drank all the beer, then turned in the cans for the 10 cent deposit, you would have $180.00.

Based on the above, my best investment advice is to drink heavily and recycle.



---
An Interesting New Product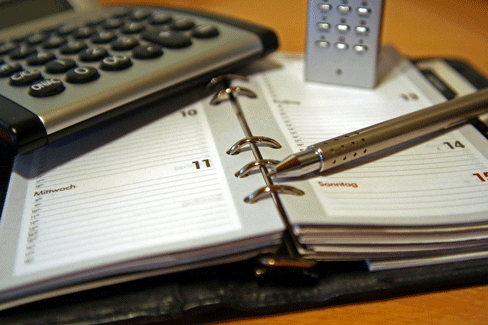 I recently reviewed a product that I was quite impressed with and I'd like to ask you a question. Would you be interested in a product that filters through almost an unimaginable amount of stock price data and gave you a list of stocks that are the most profitable during specific times of the year?

I'd have probably said there is no such thing. But there is!

TradeMiner is a web-based software package that filters through historical data of stocks using past price performance to provide a basis for future profitability. What it does is use how stock prices have performed during previous years and then averages out the data over those years to provide a picture of how those prices have performed. It then identifies repeating periods during the years when the prices have performed well and averages out the profitability figures. It also provides the dates and hold times for profitability.

But it's not just for stocks. There are three different versions of TradeMiner – one for stocks, futures and forex.

Check out my in-depth review of this product. Click here to continue reading about what the TradeMiner stock picking software can do and how you can use it to increase your results. It's definitely worth reading more about.



---
Stock Trading Warrior Pix
Hot or Not?

Giant Interactive Group Inc. (GA)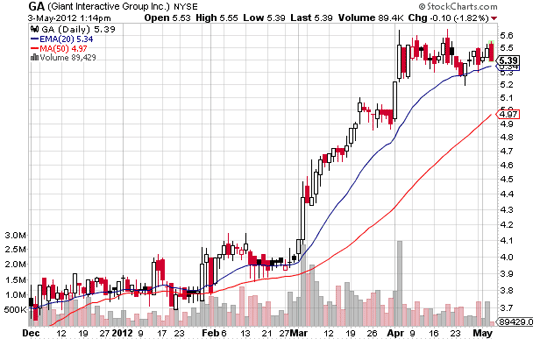 GA (Giant Interactive Group, Inc) was last month's stock pick and it set up in late March with a buy price of $5.25. The price has been bumping along between $5.20 to $5.60. It hasn't hit its stop loss so we'll continue to watch it.




Easylink Services Corp. (ESIC)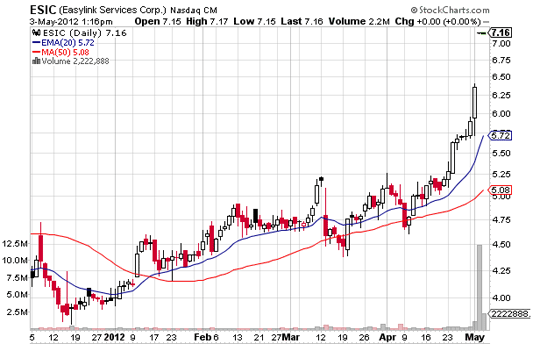 May's ADX Double DI pick, was selected at the end of last week as I was putting together this newsletter. It may sound like an armchair quarterback pick, but it was the pick. Easylink Services Corp. (ESIC) set up last week with a buy price of $6.13. The news of the company being purchased by OpenText Corp. came out on Tuesday and the stock gapped up with a current gain of 16.83%. As I've mentioned before, the ADX Double DI setup sometimes preempts big moves like a buy out.

Another stock that made a dramatic move was Great Wolf Resorts Inc. (WOLF) as a buyout became reality for the company. This was a pick using the strategy in The Stock Trading Warrior's Guide to Finding the Biggest and Best Stock Market Gainers.

WOLF was purchased at $3.90 on February 22, 2012. The stock continued to rise on buyout news, gapping up four times before currently resting at about the $7.85 range.

That's over a 100% gain on an approximately two month hold. Sometimes positive things are happening with companies that the public doesn't know about, but that increased activity can reveal.

The other nice thing is that WOLF was a low volatility stock with an ATR of 1.78% at the time the stock was purchased. As you probably already know, ATR is the the average true range of a stock's price. That's the range of how much the price moves in a day and averaged out over a set period (e.g., 14 days). It's a great way to keep investing risk lower. Take a look below at the chart of WOLF.




Great Wolf Resorts Inc.(WOLF)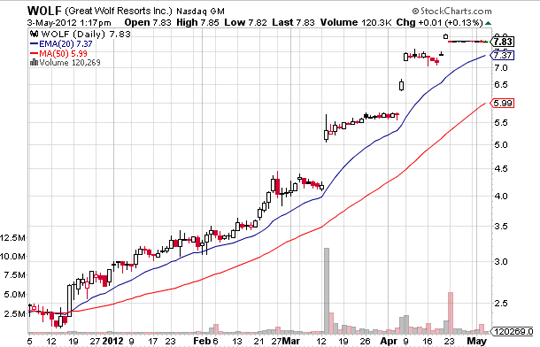 The ADX Double DI Strategy looks for stocks like the ones discussed above that are setting up for strong momentum plays to hold for a week or two - up to several months. The ADX Double DI Strategy is described in detail, along with other trading plan strategies in the book: The Stock Trading Warrior's Guide to Finding the Biggest and Best Stock Market Gainers Using the ADX Double DI Strategy.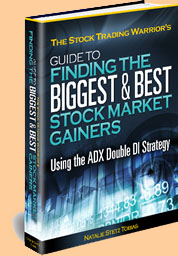 Comes with a full money-back guarantee if you're not completely satisfied.
Click here for more information about the ADX Double DI Strategy ebook.


---


Don't forget to look for next month's newsletter for more current stock market news, analysis and Step 4 of How to Create Stock Trading Systems.

If you have any stock trading questions at all, please submit them on the Stock Trading Warrior contact page.


---

Thank you for reading What's New at Stock Trading Warrior!
For additional stock trading information and tips, please visit
Stock-Trading-Warrior.com

If you enjoy this ezine, please feel free to forward it to your friends. If it was forwarded to you and you'd like to subscribe, please do so by visiting Stock Trading Warrior Home and sign up using the opt in box.