Hello Stock Trading Warriors!


November 2012

The What's New at Stock Trading Warrior Newsletter brings you stock trading news, analysis and tips. In this month's newsletter you'll find information on the following:

Continuing Your Stock Trading Education


New Focus for 2013
Actively Trend Trade with the Stock Trading Warrior


STW Comedy Corner


Market Commentary


STW Recommended Products

Each month beginning in January 2012, the Stock Trading Warrior Newsletter focused on developing part of a strong, stock trading system to help you create or fine-tune your stock trading performance. This next year let's take your trading and investing to a new level!


Let's make 2013 your best stock trading year ever!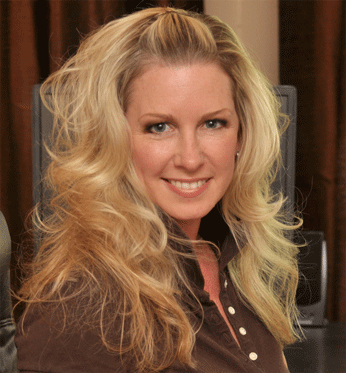 What's New at Stock Trading Warrior is written by the Principal Warrior at Stock Trading Warrior, Natalie Stetz Tobias. Natalie is a self-taught stock market investor who's passionate about sharing investing strategies that work.




---
The Stock Trading Warrior's Guide
to Continuing Your
Stock Trading Education

Since the September Stock Trading Warrior newsletter, I hope you've had a chance to work through Step 9 of your Stock Trading System - How to Track Your Trades. If you've practiced tracking your trades, then you've probably realized the value of it for improving your overall trading success.

As an active trader and investor, I continually look for more information about stock trading to add to the probabilities of success and as affirmation of what I'm already doing.

As mentioned in last month's topic of tracking your trades, reviewing your systems may reveal areas for improvement. Casually throwing a recommended trading book onto your book list or jumping into a webinar can give you food for thought to help you tighten up your rules in those areas. Whether it's your strategy, money management issues or finding a better broker, continuing to educate yourself is the way to go.

This month in Step 10, (mostly) Free Stock Trading Information I'll share where you can get new information and how to incorporate newly learned aspects of probability into your trading.

You'll see that continuing education can take a variety of forms. Learning can be live and in person with groups of other like-minded people, on the internet via a webinar or curled up in a comfy chair with your nose in a book. Any way you choose to go, I hope you'll decide to continually further along your stock trading knowledge. Enjoy!


---
Newsletter Focus for 2013
Actively Trend Trade
with the Stock Trading Warrior
If you've visited the Stock Trading Warrior website lately, you may have noticed the NEW! Trend Trading section that's under construction. Trend trading is the chosen strategy for many of the very best stock traders and investors. When it's done, the new section will be a complete tutorial for how to trend trade.

With that in mind and looking to the new year, the newsletter will focus on supplementing the trend trading section of STW by highlighting stocks that are actively setting up to trend with detailed technical analysis and specifics on how to handle the position. We'll also review how the chosen positions performed and really get to see how trend trading works.

And, as in the past, feel free to share stock market questions or comments about trading and investing by using my contact form.


---
STW Comedy Corner

Watch the character Alex Keaton from the 80's show Family Ties do his interpretation of the 1929 stock market crash. It's Michael J. Fox doing what he does best - make us laugh. Click on the image below for some stress relief:


---
Market Commentary
As mentioned in the September newsletter, by the middle of September, the markets had started to take a break and were trading in a sideways range. As you can see in the chart of the S&P 500 Large Cap Index ($SPX) below, after that the market started to really break down by the end of October.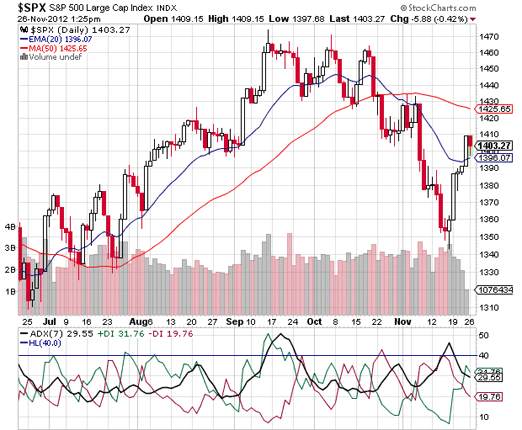 Using the ADX, you can see the trend began to lose steam in mid-to-late September as the ADX line began to decline. A declining ADX line doesn't always mean the trend is over (it can mean that the trend is slowing). Then by looking at how price was moving and moving averages (MA), more weakness appeared. As the price crossed below the 20-day MA and then the 50-day MA, the ADX revealed the downtrend as the ADX line began to rise. The 20-day MA and 50-day MA crossed on October 26th and signaled a possible stronger downtrend that did occur shortly thereafter.

It's beneficial to pause on taking new positions when the market shows indecision or weakness. That way you can avoid taking a new position only to have it dragged down by general market action into a loss. Over time this will really help the bottom line of your investing portfolio by preventing you from getting into positions that don't provide you with an initial upside cushion.

Looking at the weekly chart of the $SPX shown below, currently the –DI is above the +DI with a slightly upward moving ADX which is an indicator of a downtrend. (Remember the ADX line is nondirectional – if it's going up, the trend [up or down] is increasing.)




What to Do Now?

At Stock Trading Warrior, the philosophy is not to speculate on what the market might do, but follow along with what is actually happening using the signals that are given - all the while using good money management skills.

Based on what is showing, it appears the current downtrend is slowing, but the mid-term trend is still down. Take new short positions cautiously and be looking for the ADX to begin rising on the daily chart. Once it does begin to rise, take new positions in the direction of whichever DI is above the other.

Remember you can always check the Stock Trading Warrior's Stock Market Direction webpage for the current market directional signal.



---
STW's Recommended Products

The online stock trading broker I use is Tradeking.com. Most commission fees are $4.95 per trade and Tradeking.com is also offering an incentive to cover up to $150 in transfer fees. To read a bit more about why keeping commissions costs low is a good idea go to "Do Online Brokerage Fess Eat into Your Stock Trading Profit?"



Switch to TradeKing and get up to $150 in transfer fees reimbursed.


Looking for a good stock market book? Checkout my favorite stock trading and investing books at The Stock Trading Warrior Store.

Want to kick up your stock research? Trade Miner stock picking software filters through a tremendous amount of statistics in a flash to reveal stocks that have performed well historically. One of the best ways to trade and invest in stocks is to have a watch list of high performance stocks. Read more about what Trademiner does.


---
NEW! Learn Trend Trading

Visit the NEW! Learn Trend Trading section of Stock Trading Warrior website that's currently under construction!



Go to Learn Online Trend Trading



The trend trading series will include what to look for in a trend, when to get into a position and when to sell - all in a step-by-step format and give you a complete system for trend trading.


---


Don't forget to look for next month's newsletter for more current stock market news, analysis and focus on trend trading.

If you have any stock trading questions at all, please submit them on the Stock Trading Warrior contact page.


---

Thank you for reading What's New at Stock Trading Warrior!
For additional stock trading information and tips, please visit
Stock-Trading-Warrior.com

If you enjoy this ezine, please feel free to forward it to your friends. If it was forwarded to you and you'd like to subscribe, please do so by visiting Stock Trading Warrior Home and sign up using the opt in box.