How to Keep
a Stock Trading Journal
SPONSOR:
The trend is your friend! Click here to see the Top 50 Trending Stocks.



Keeping a stock trading journal of your closed out stock trades is probably the most enlightening thing you can do to improve your stock trading, and it's actually kind of fun.
Take some time each weekend and print out the charts of all the trades you made that week. Make sure to include any indicators that you use to make your trading decisions.
What you're going to do next is grade your trades. Use as much objectivity as possible and be strict.
Take a red pen and I mean a red pen. It will bring back memories of graded papers from school.
On the charts you've printed out, mark your buy point and sell point. Calculate the dollar and percentage gain/loss for the trade and write that at the top of the page. Using a ruler, draw vertical lines at your buy and sell points all the way down through the indicators so you can really see what the stock did during the time you held it.
With your trading rules in mind, look at the trades and make a bullet list of any mistakes that you made. Also note any other observations like shifting market conditions, price exhaustion, candlestick patterns, etc.
Hole punch the graded chart sheets and put them in a 3-ring binder as your journal for you to keep for periodic review.
What you'll have is something like this: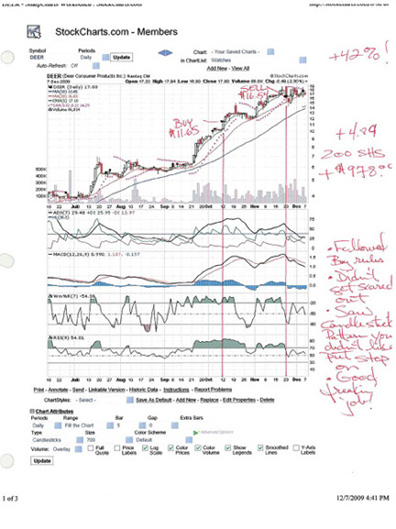 After you have "graded" each trade for the week, a mistake pattern may become evident. This exercise can cure you of repeating mistakes because you'll simply get tired of seeing that you made the same mistake over and over. If you're an honest grader, I promise you that you'll learn something about your trading.
Also, go back after a few weeks to see how those stocks performed after you sold and graded them to see if you can learn anything else.
Your stock trading journal is a terrific way to make your way to better trades!
For a more sophisticated trade tracking program that provides excellent tracking ability for current positions or for monitoring watches
buy TradeTrakker.