Stock Market Charts
SPONSOR:
The trend is your friend! Click here to see the Top 50 Trending Stocks.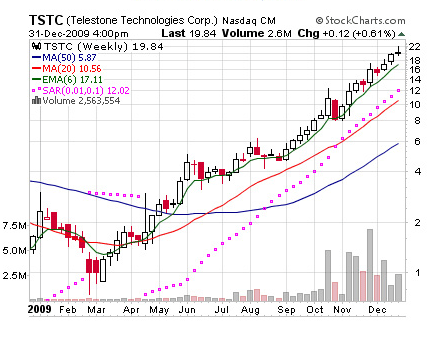 No matter what kind of stock trader you are, you have to know your way around stock market charts. A chart reflects all that is going on with the value or price of an index or company stock.
Even if you study fundamentals, a purchase should never be made without some knowledge of chart reading and perception of how to read the trend of the stock price and market direction.

Stock trading charts are all unique, have certain characteristics and they all tell a story. If you're a visual person you're gonna love stock charts.
If you aren't yet comfortable reading an online stock chart, checkout "Reading Stock Charts Made Easy." There you'll see how most stock trading charts are set up, what information a chart provides and what you want to look for on a chart.
There are many sources for stock charts including your online stock brokerage, but make sure you find a chart service that you find easy to read, provides helpful overlays and is easy to adjust and view with any indicators you like to use.
The ability for historical charts to give you important information is also found in the stock market history graph of the Dow Jones Industrial Average beginning in 1900.
Lastly, just for fun, take a look at some gorgeous charts in the Stock Chart Hall of Fame under Best Stock Trading Charts of 2010 or Best Historial Stock Charts of 2009. Here you'll find some of the best performing stocks by percentage increase.

Back from Stock Market Charts to Learn Online Stock Trading.