Parabolic SAR Indicator

SPONSOR:
The trend is your friend! Click here to see the Top 50 Trending Stocks.



The parabolic SAR indicator is a clear and easy signal to use to help determine market direction or the direction of an individual stock. It's an tool created by that very clever fellow, J. Welles Wilder, Jr. and parabolic SAR stands for "parabolic stop and reversal" which is very much what it sounds like – a stop and reversal of the current direction.
The parabolic SAR's position is indicated by the dots above or below the candlestick bars and like other indicators (e.g., moving averages, Bollinger bands, etc.) it's an overlay that can be turned on in many free chart programs and charts provided to you by your online brokerage or chart subscription service.
A way to describe the parabolic SAR indicator is to liken it to a trailing stop of price action. Just like a trail stop that can be placed on a stock you own, the parabolic SAR's value takes into consideration the maximum price point in an upward trend or minimum price value in a downward trend adjusting for each time period and then applying that figure to the next day's price action.
When the series of dots switch from above the candlestick bar to below that signals that the market is beginning to move upward and the upward moving price will pull the dots upward. When the dots switch position from below the candlestick bar to above that means the market is shifting toward a decline. Here's an example of the NYSE with the parabolic SAR overlay turned on: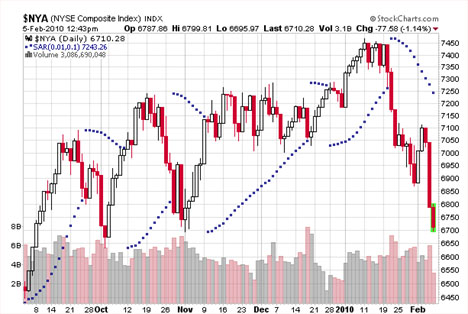 In the example above, right now would not be the time to go long, as the parabolic SAR indicator is above the candlestick bar and the trend movement is downward. Going long in the market right now won't give you the boost you need to do well because what are the chances that you have found one of very few stocks that will move upward in a downward trending market? Let's just say that the chances are slim.
If you're comfortable shorting and had some good candidates, then a couple of weeks ago would have been a good time to do so.
One thing to note: the default setting for the parabolic SAR is usually 0.02,0.2. However, for stocks the setting should be 0.01,0.1 to avoid too much sensitivity and the parabolic SAR switching above and below the price bars too frequently.
When those switches around occur more frequently, it's called a whipsaw and you will see more whipsaws in a non-trending market. Hard to know when you're going to experience a non-trending whipsaw period or a real market direction change, but what can help with this is using Moving Average (MA) lines. If you see MAs that are flat or horizontal looking you can expect to see more whipsaws and the price shifting back and forth more regularly as in the example of DRYS below.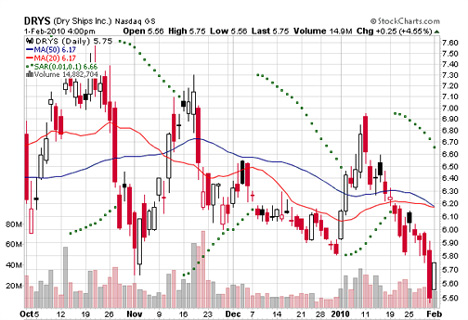 If a market is trending, day after day the dots will be moving either up or down indicating that the market is trending in that direction. In a trending market any parabolic SAR shifts should be temporary.
The following example of FUQI shows a trending stock. You'll notice the MAs are trending upward and the parabolic SARs are mostly below the price bars and when they do switch to above, the dot sequences are short and remain pretty flat.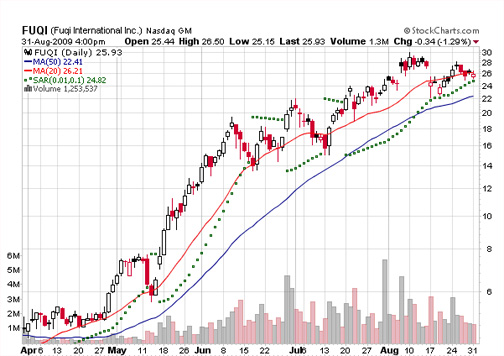 Before you drop a penny on a stock, look at the major indexes like $NYA (NYSE) and $COMPQ (NASDAQ) and see if the parabolic SAR dot for the day is above or below the candlestick bars. You can also look at a weekly chart if you're a longer-term investor.
One thing to mention about the parabolic SAR indicator is that it can lag a bit after a market or a stock has begun to turn. That's why it's always good to have a real sell point set to lock in profits. However, as you have seen, it still is a good signal that a trend is slowing or shifting.
There are also other indicators you can use in conjunction with the parabolic SAR like the ADX indicator which will help to determine if a stock or the markets are trending or non-trending.
The parabolic SAR indicator is just one of several ways to determine stock market trend.

Return from Parabolic SAR indicator to Online Stock Trading Warrior Home.