Swing Trade on the Short Side
SPONSOR:
The trend is your friend! Click here to see the Top 50 Trending Stocks.



If you are a swing trader maybe you'd like to trade on the short side. Scan for stocks trading below the 100- and 50-day moving averages with the MA lines moving downward. Seeing an already established trend to the downside creates a higher probability that the stock will continue downward.
I also use ADX (7) and Full STO for additional information and confirmation. I look for stocks that have an ADX over 25 with the line either moderating or rising with the -DI also above 25.
Then I look to see if the STO was recently above 80. The more recent the better.
It's also a good sign if the price has recently tested a moving average line to the upside because if the price fails again, it's usually with some power. Long position holders get even more discouraged and will typically sell creating that pull downward.
I've included an example of NWPX although it's a stock that's too thinly traded it's a good example of the strategy. The two green bars identify potential short entries.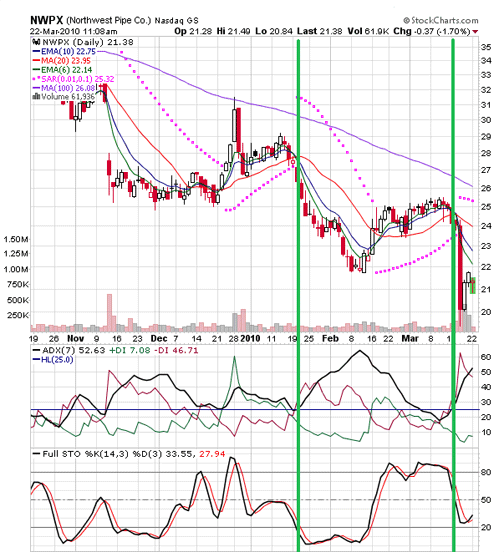 As is mentioned in the Swing Trade Stocks webpage, Japanese candlestick formations are also a large part of swing trading. Candlestick formations are another way to read the price action of traders sentiment about the price of a stock for a time period be it weekly, daily or intra-day. The ability to read them is extremely helpful. A terrific place to learn the basics is Candlestickler.com

Additionally, as with any stock position it's imperative to keep a stop loss order on all your positions. This can help you sleep well at night and also give you the confidence that your capital is protected if the stock price falls.

Back from Swing Trade Short to Online Stock Trading Warrior Home.