Momentum Stock Trading
How to Spend Less than an Hour a Day Trading and Be Extremely Successful
SPONSOR:
The trend is your friend! Click here to see the Top 50 Trending Stocks.



How Momentum Stock Trading Can Change Your Perspective
Come into my trading room! Personally, I don't like to just sit at my computer all day and watch my stock positions. After all, part of the attraction to trading is creating a system that provides us with freedom. There are families to spend time with, day job work and other things to enjoy as well as having a passion for trading or investing.
One mid-term (a week to a few month hold) stock trading strategy that can take up only an hour of your time a day to find and trade is called momentum trading or finding trending stocks. After you develop your stock trading system and trading strategies you're going to use, the action of finding and buying the best stock trading candidates and trading them can then be streamlined and take less than an hour a day to find and trade.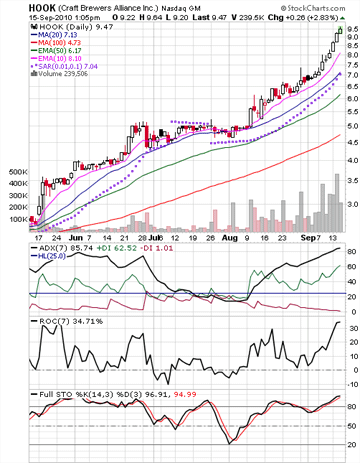 In momentum stock trading, traders look for a stock with a newly upward trending price momentum like in the example of the stock symbol HOOK above and stay in the position until the momentum or trend breaks and the trader's stop loss automatically exits the stock locking in a gain. (Prior to a gain, a stop loss is always in place to prevent any large losses to the portfolio.)
Here's how it goes… after the close of the trading day, stocks are evaluated and trades are entered for the next day. The reason trading is done after the close of the day is to see if there is real price movement plus volume strength for the duration of a full day. A stock price that makes it through the day strongly has a higher probability of a successful momentum stock trading pick. It's almost as if it has to prequalify to a certain standard before it can be considered a candidate for purchase.
After the market closes, a pre-programmed scan for the strategy setup is run looking for stocks that fit the trader's momentum trading strategy. A scan program can usually be found on your online stock broker's site, a paid charting service or you can visit FINVIZ.com which offers free scanning capabilities for technical indicators (and fundamentals too).
Each returned stock is then previewed on a chart. The stocks in the healthiest patterns are chosen for further consideration. The key here is having one strategy setup that you're looking for so you can do it quickly and easily. (The one I use is the ADX Double DI Strategy or go to A List of Trading Strategies to review a list of strategies.)
Buy orders are placed on the few stocks with the best strategy setups and patterns. A suggestion for the buy price is to make it above the close or even above the high of the strong day. As in the example of HOOK above, buy orders above the close or high of the prior day at the beginning of a new trend are quite successful.
As soon as the stock is purchased, it's stop loss parameters are calculated for the stop loss of each stock and an order is immediately placed with the broker on every purchase. Email or text alerts come in handy for purchase notification and as a reminder to enter a stop loss.
If the trade is not made during the day, the buy order can be left in place if the stock price still looks fairly strong. Some stocks drift along for a few days in a small trading range before continuing the move upward. If the price breaks down the order can just be canceled.
Using this momentum stock trading buy system, it's not even necessary to be at your computer at market's open or throughout the day unless you enjoy watching the movement and have all-day access.
In a healthy market, the scan can be adjusted to find the very best stocks. Tweaking can occur around volume strength, daily price closes above all major moving averages or for some indicators a higher indicator strength. Even when the market is in a stop trading period, the scans should still be run to view stocks with strength because a tough market may produce future buy candidates.
Momentum stock trading is a terrific and easy to apply strategy as part of a successful stock trading plan and once you have set up your stock trading system, it can easily be done in less than an hour a day!
Take me to the Trending Stocks Strategy page.

Return from momentum stock trading to Online Stock Trading Home.