Stock Market Stock Trading Trend
What Happens When the Market Isn't Trending?
SPONSOR:
The trend is your friend! Click here to see the Top 50 Trending Stocks.



Stock Market Stock Trading Trend
When the stock market trend is faltering or not trending at all, it can get to be a little testing. As a trader, I want to trade. I want to be actively looking for positions I will take. But, in a non-trending market, I tend to stay mostly in cash. And as some successful traders say, in a difficult market to trade in, it's ok to stand on the sidelines even if it is a little boring.
Trading along with a trend gives traders and investors alike an easier way to be successful. It's like swimming with the tide rather than against it. Reading market trend is reading the bigger picture while reading an individual stock trend is the smaller picture, but swimming the right direction in both is key.
Indicators applied to a price chart are what help to read trend. The great thing is you only need to use one or two indicators to get a read on trend and most are very easy to use. In Look at Stock Market Trend before You Buy Stocks, I cover a range of indicators to use. Some of the indicators can also be used for reading individual stock trends. And, to assist you can look at the Stock Trading Warrior's Free Daily Stock Market Direction Signal. Here's a chart of the S&P 500 ($SML) from July 2011, and as you can see, the index is not trending. This period in 2011 was a very volatile time with 100+ point swings as a norm.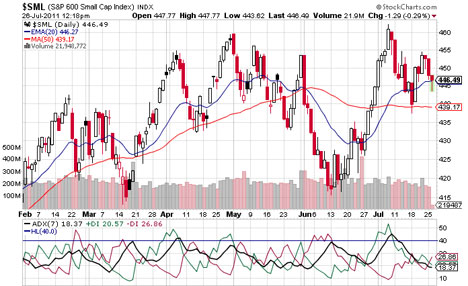 As an online stock trader trading trend, when the market goes into a nontrending zone either as the market loses steam or becomes volatile in up and down directions it might be time to take some profits and stay in cash. Taking some discretionary profits is fine when the market becomes choppy. If you have a personal trading account that is not an IRA or SEP account which typically have a longer term strategy or you just want to protect profits, then taking discretionary profits when the markets get wobbly is a good thing. Because at the end of day, that's what we're here to do – make a profit from trading investments.
I don't usually take discretionary profits, but they do have a place in trading. In general, the times that I have taken discretionary profits I have never regretted it. It's more often I'm disappointed when profits dissolve in a trade. This situation is what heightened my desire to understand when to take a discretionary profit rather than let a stock price falter.
The distinction is to let profits run in an overall trending market and consider taking profits when the trend shifts direction or goes into a nontrending zone. If I didn't understand how to read market trend, I can guarantee that I would have lost a lot of money in 2011 and that's why having a way to read market trend is so important.
Personally, because I'm an online stock trader trading trend, I choose to use the Average Directional Index (which I'm a big fan of) to read market trend, and I use it with all of my trading. You can pick any technical indicator or trend reading method you feel comfortable with and believe serves you well to determine trend, just as long as you use one.
Go from Market Stock Trading Trend to an introduction to Stock Market Trend.

Go from Stock Market Stock Trading Trend to Online Stock Trading Warrior home.

Don't Forget to Check Out
the Stock Trading Warrior's FREE Daily Stock Market Direction Signal - Updated Daily.